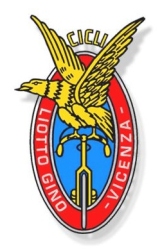 1975 Liotto

Purchased from Alessandra Moretti

Components: Campagnolo Record 151 BCD crankset with 54-43 chainrings; Campagnolo bottom bracket; Regina Oro 5 speed freewheel [14-17-20-24-28; 41 - 102 gear inches]; Everest Serie Special chain; Campagnolo Nuovo Record rear derailleur pat. 1971; Campagnolo Nuovo Record front derailleur; Campagnolo Record shifters; Campagnolo Nuovo Record toestrap-loop pedals; Christophe Special toe clips; Christophe toestraps; Reg toestrap buttons; Campagnolo Nuovo Record 27.2mm seatpost; Campagnolo seatpost binder bolt; Turbo Bernard Hinault saddle; Galli Super Criterium brake calipers; Gipiemme brake levers; Jagwire X-Caliper brake pads; Campagnolo Record 36o hubs; Mavic rims; 3ttt Mod 84 stem; 3ttt Mod Competizione handlebars; Benotto handlebar tape/plugs; Ale water bottle cage. Seller Dated frame as 1975; seems about right given lack of top tube cable braze-ons.

Weight: 22.9 pounds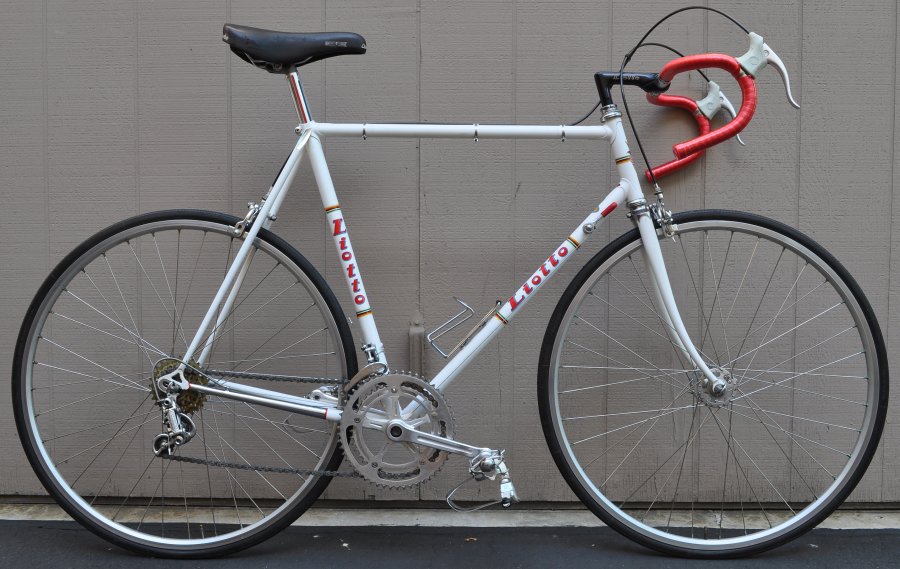 link to larger photo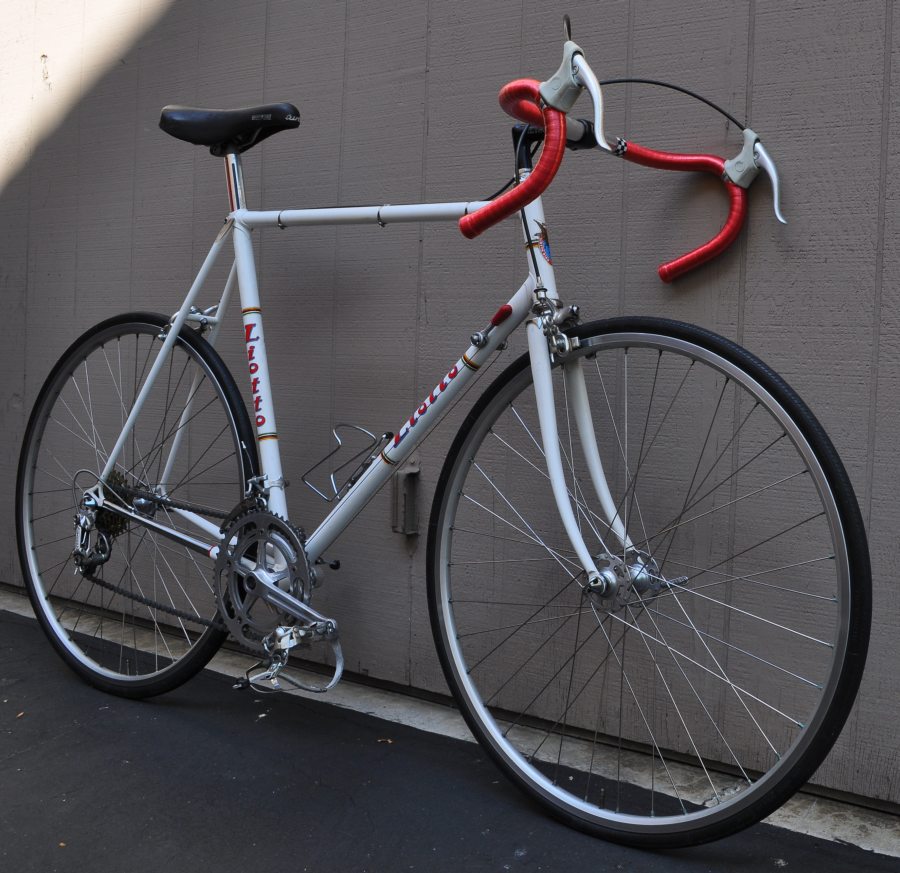 link to larger photo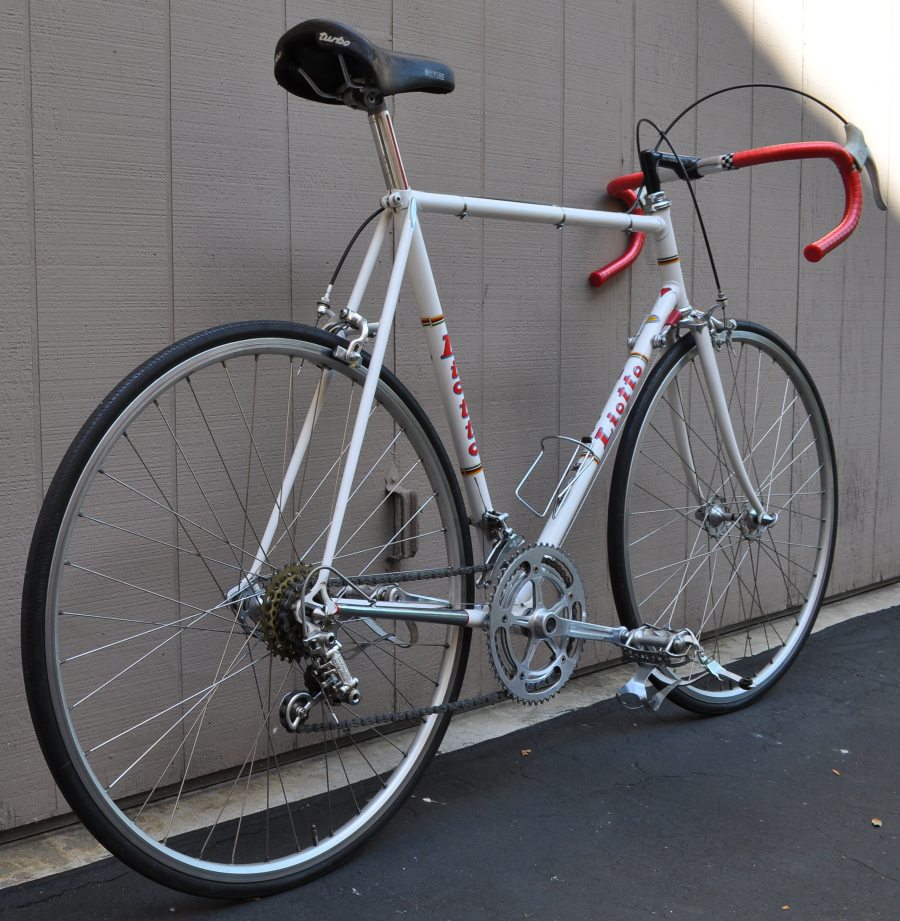 link to larger photo

NORMAN HELLMAN on LIOTTO from 2008 CR email:
... Gino Liotto has been making custom made racing frames for many years in his shop in Vicenza,Italy. Vicenza is the home of Campagnolo and Gino is the source of racing frames and bikes in that city. I first saw a Gino Liotto at the 1974 World Cycling Championships in Montreal ridden by one of the Italian national team members, the squadra azzurra. I could not believe how beautiful it was, and as I could speak Italian fairly well, I asked him where Gino Liotto was located and he was gracious to tell me that the shop was in Vicenza. I do remember him telling me "la migliore, tutti fatto a mano." This means the best, all hand made. Some time after I wrote to Gino and asked him to duplicate as best as possible that particular bike which was flamboyant black with yellow decals. Unlike Masi, Cinelli etc., Gino was a truly custom made framebuilder in that you could pick a choice of lugs, fork crown, tubing, seatstay caps, lugs, and even the rear brake bridge reinforcements and of course whatever color you wanted. So several months after the letter I received a beautiful custom frame for the ridiculous price of $275.00 ! ... all this is now in the past. Gino does not make custom frames anymore from Columbus or Reynolds tubing, although the shop continues to be a mecca for racers and enthusiasts in Northern Italy. The shop sponsors a major event, the Gran Fondo Liotto, which takes place on many of the beautiful roads in that part of Italy. Members might have seen my previous thread in which I mentioned that the Olympic silver medalist, Davide Rebellin of Italy, rode a Gino Liotto as an outstanding amateur. Bicisport, the bible of cycle racing, had wonderful pictures of him on a beautiful champagne gold Liotto Super which is what they were called. ..."
TOM SANDERS on LIOTTO from 2008 CR email:
Gene Portuesi supplied these to his top racers and, I believe, imported them. They were expensive bikes and were considered at least the equal of other more well known bikes of the period. ... Gene used these as the premium bikes for his racers, those with less money and ranking tended to get the Donicelli bikes, which he also imported....