1950 Macleans Featherweight Eklar

serial number KB293, Accles & Pollock tubing; Ekla (Belgium) cast frame lugs & fork crown. Purchased from Alexander von Tutschek.

Components: Stronglight Competition crankset; 46t alloy chainring; Bayliss Wiley bottom bracket; 1/8" KMC chain; Benelux rear gear [1953 version with steel body]; Simplex shifter; Phillips 40o rear hub with Sun CR18 700c rim; 1/8" Omega Extra 16-18-20 freewheel [60-67-76 gear inches]; Webb pedals; GB Professionnel stainless steel toe clips; Afa toe straps; Reg toe strap buttons; Mixed headset [Brampton, Campagnolo Gran Sport]; GB Sport Mark 3 brakeset; Jagwire X-Caliper brake pads; ribbed white cable housing; Spencer alloy shorty mudguards; GB Maes handlebars; GB stem; GB handlebar plugs; TA handlebar water bottle cage; Wrights Autograph Narrow saddle; Birmalux alloy open-top 27.2mm seatpin; Reynolds Hiduminium lamp bracket

Weight: 25.0 pounds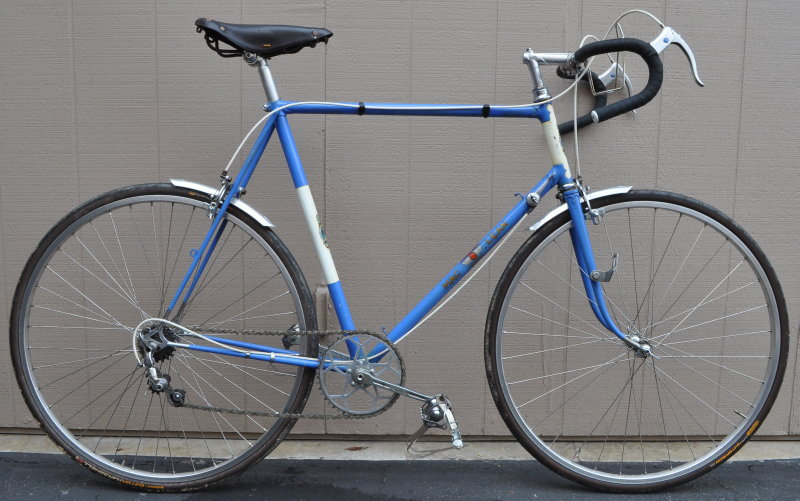 link to larger photo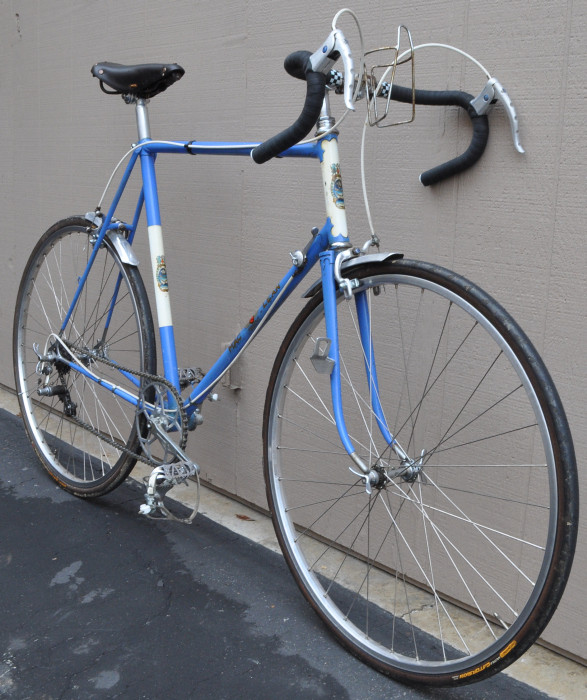 link to larger photo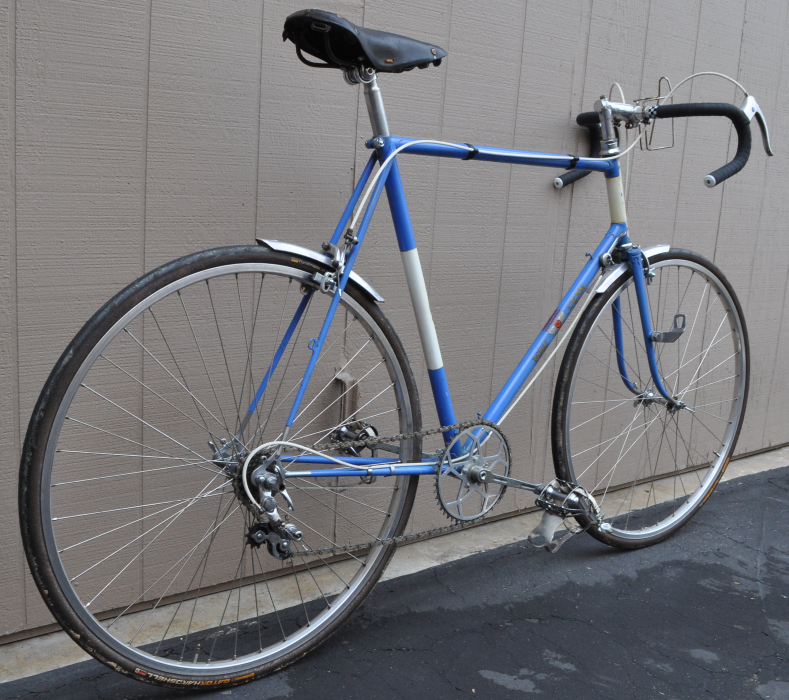 link to larger photo

According to Cycling, 8 Nov 1950 p.10, Macleans made the Eklar (road) and Club (touring) and Track models

Frame Tubing Stamp:
Within an oval on the steerer tube, there are four lines stamped as follows:

A & P
BGT
G13A...
B...

I'm not certain about the "A" after G13, and the ellipses (...) indicate that there are additional characters that are too faint to read.

Interpreted From Classic Lightweights UK site information:
"A&P" means the steering tube was Accles & Pollock tubing. "BGT" should be "BST" for British standard thread. "G13A..." could be "G/13/16" which equals "...Gauge (wall thickness is 13-standard wire gauge one end and 16 the other = 2.3mm thick at the crown and 1.6mm thick at the top, threaded end (as all modern steerers)." B.. should be "BQ" means "B" quality tubing.


Maintenance Note: Head tube grease port usable to grease headset bearings.

Marque sites: